Season 5 is a fan-made fifth season Harvey Girls Forever!, and first season of Harvey Girls Fanonever!. It will take after Season 4. It premiered on Universal Kids and Netflix Network on June 3, 2020.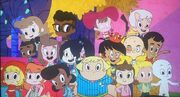 Plot Overview
After 3 months of events in last episode, Lotta back to Harvey Street reuniting with Audrey, Dot and Richie. She brought with her a new friend she met - Gloria Glad, with whom they befriend becuase she is also Richie's new baby cousin from Cincinnati. They will experience new adventures again and discover more amazing places and also they'll deal with a villains! Also Harvey Girls and firends will have ocassion to meet Wendy the Good Little Witch, whom she has to babysit Richie.
Episodes
1. The Grand Return and New Friends
Summary: Lotta is back to Harvey Street reuniting with Audrey Dot and Richie and presents new friends.
2. Urban Jungle/The Fast and Crazy
Summary: The kids are organizing a plant contest. Dot breeds a plant, who gets out of control after growth./Harvey Kids organize a race in Harvey Street and everyone built a vehicle.
3. Starry night/You Can't Hide
Summary:
4. Crush 4 Wedding/A Rich misbehavior
Summary: The Harvey Girls discover that Crush4U has a wedding party planned out where Auden is marrying Chloe Claireson. Following it, Audrey has the option to find Auden's ring!/Wendy the Good Little Witch wants to babysit Richie. Suddenly, during the movie "Onward", he ends up pooping on the screen. Gloria and Dot take him to The Bow's house as a punishment.
5. Ride to the Challenge/Mystery gift
Summary:
6. Thanks again for Everything/Jumprope test
Summary:
Summary: Harvey Girls, Richie prepares to anniversary celebration of the foundation of Harvey Street. But the wolf pack led by Blackjack want conquer Harvey Street. Lotta befriend with teenage wolf named Alex.
8. Fireworks Week/Know Your Friendship
Summary:
9. Wisdom School/A CLG Logo Nightmare
Summary:
10. A green Flower/Swim in the pool
Summary:
11. Merry Christmas, Love, Harvey Angels
Summary:
12. Return of the Dingos/Boomcretia
Summary:
13. No rush hour/Befriended girl
Summary:
14. Crush 4 Fireworks/Attack of the Killer Snakes
Summary:
Summary: 3
Community content is available under
CC-BY-SA
unless otherwise noted.